Requirements in step with the times
In recent years, the hygienic management of the egg grader is becoming an important factor to improve safety basis and to secure quality control for the egg grading and packing process. The SKY series has the world's first built-in cleaning feature and it enables to clean in every day basis for every part of the system components which has physical contact with eggs while the system is in grading operation.

In 2008, this unique laborsaving technology and its sanitary design have been awarded by the Japan Society of Mechanical Engineers.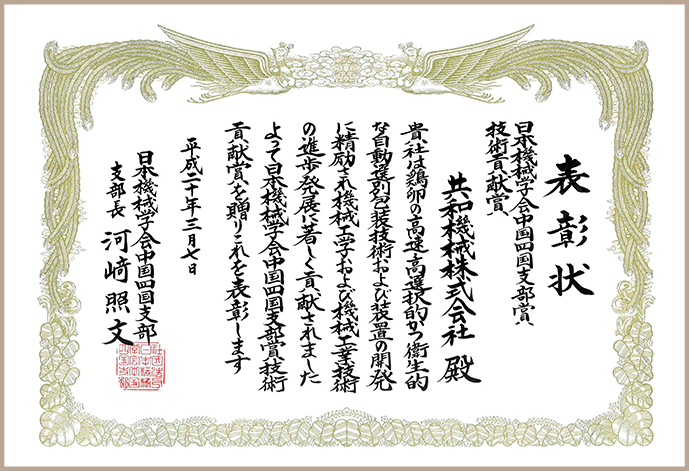 Capacity
33,000 to 38,000eggs/h (Single)
66,000 to 76,000eggs/h (Dual or 12 line)
110,000eggs/h (Dual of 6line and 12line)
World's First Egg Grader with Carrier Cup-Auto Washing Feature
Each grading system comes with more than hundreds of carrier cups and transfers hundreds of thousands of eggs in daily basis, therefore this section can be stained intensively. The SKY series is the world's first egg grader comes with built-in cleaning feature for carrier cups. The carrier cups are made of special antibacterial resin which has antifouling effects against egg liquid, and the washing process will automatically start by simply selecting washing menu from control panel, so that enables to clean this section every day.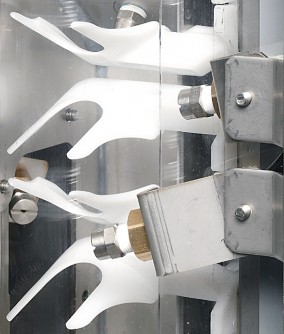 Automatic Foam Cleaning of Washer and Dryer
It is necessary to clean inside the washer and dryer as these places are the most favorable places for bacteria. SKY series can achieve full automatic disinfection cleaning inside the washer and dryer as an optional function. This minimizes the cleaning works of operators. Also, it counteracts the risks of bacteria.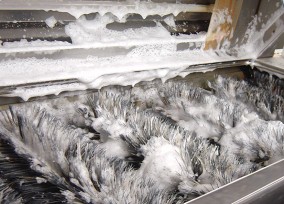 Newly Designed Packing unit
The SKY series has its egg hold units hang down from main frame, so that gives wider space and easier access for cleaning operation. The egg hold units gently slide downward to egg packs (or egg trays) and release the eggs smoothly and softly as possible.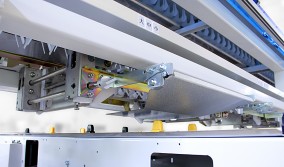 Washable Weighing Section
The weighing section built with waterproof load cell units has an automatic correction feature to avoid negative effects from machine vibrations or incidental particles. For the SKY series, this weighing section is washable so that enables to keep its cleanness with minimal work.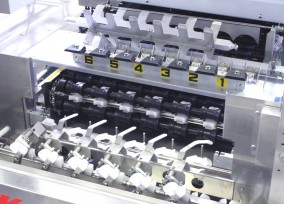 Washable candling Rollers
The egg candling section is the section to install the detection system for crack eggs, blood eggs or dirty eggs. For the SKY series, the automatic washing feature can be built-in at this section, so that enables to clean the rollers by simply selecting washing menu from control panel.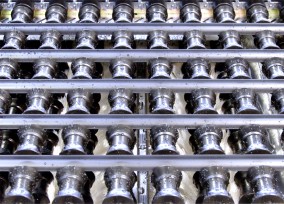 Large Space under the Machine
SKY succeeded to obtain a larger space under the machine by re-examining the structure and device positions of the existing machines. By removing complicated parts, SKY has a higher resistance against dust and dirt. Also, the large space under the machine enable the operators to clean under the machine easily.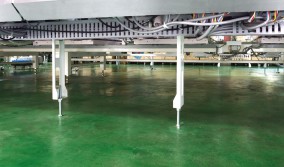 New CPU achieves easy and friendly control
It is foreseeable that the needs for handling a variety of packages at GP center will continue increasing for the future. SKY enhanced its pattern setting for the packaging lanes. Also, the improvement on the slip data and alert patterns enables easy and friendly control for the operators.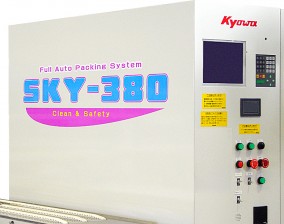 Sample layout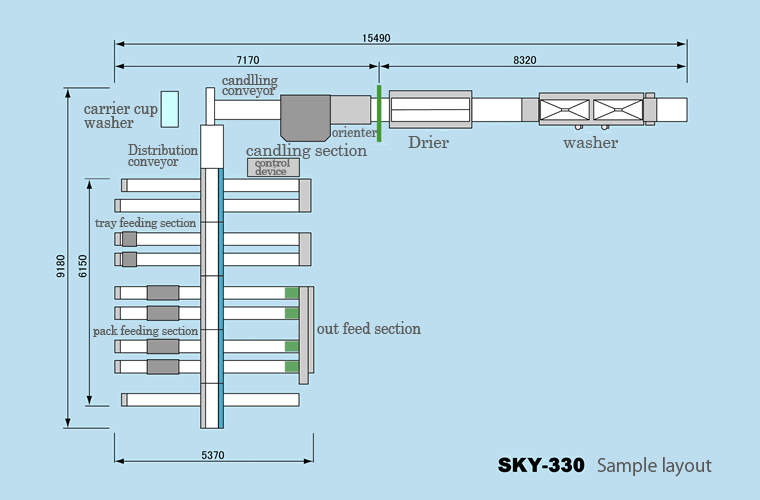 Specifications
Type

SKY-330

SKY-350

SKY-380

Processing speed

33,000eggs/h

35,000eggs/h

38,000eggs/h

Electric power

3-Phase AC200V 26.5kW / Single-Phase AC100V 4.1kW
(SKY-330)

Hot water supply

10L/min(55~60℃)

12L/min(55~60℃)

12L/min(55~60℃)

Water supply

18L/min(for automatic washing)

Air compressor

90NL/min(0.6~0.9MPa)
(SKY-330)

Electric power and Air compressor are reference value of standard type.Neither peripheral equipment nor optional equipment is included on the above specifications.Please contact our sales staff for details.