Improve the Managing Efficiency at GP center
The technology development enables the egg production to reach larger capacity. This large capacity egg production sometimes negatively affects the GP center management as the less profitability is always being with large production. KYOWA considers the way to make and provide an egg grading system as a solution for this difficult issue. By improving the production effectiveness and management efficiency, the machine will support middle-large egg production business. The machine is called CS6.
Core Technology and Concept
The most unique characteristic of CS6 is the "6-line egg carrying operation" from the start to the end. The traditional "6-line to 1-line" is removed in this machine. As a result, the stress to the eggs are reduced, and slow and gentle handling for the eggs are achieved even it is 60,000 eggs per hour operation.

Smooth "6-line egg carrying operation"
CS6 does not have a carrying acceleration part called Transfer which has been popular in this industry. Washing, Grading, Packaging processes are carried by "6-line carrying operation" which is the world's first and the most unique point of CS6. The graded eggs will be passed to each packaging station unit through very simplified mechanical structure.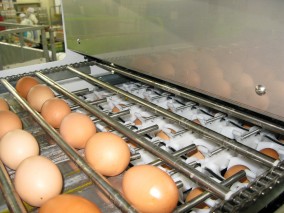 Stress for Eggs is Greatly Reduced
There are less connection plates or bars between each process. For example, egg feeding to orienter and washer to dryer process have the integrated structures. This reduces stresses to the eggs which are caused by incidents such as miss timing and accidental hits of eggs.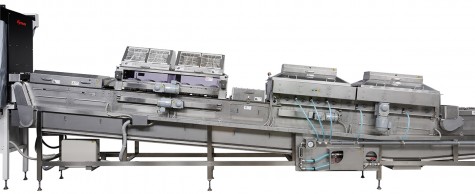 Gentle, Speedy and Smooth Egg Loading
A robot type Auto Loader with up-down and right-left driving shaft enables gentle egg loading by synchronizing with egg feeding roller. It can minimize the shock to the eggs and reduce the possibility of making cracked eggs.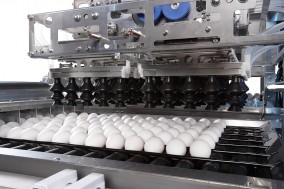 Variable Speed Controls of Accumulator
For the in-line egg feeding (conveyor from layer houses to grading machine), an accumulator which is designed for CS6 with variable speed control function. The accumulator can handle 60,000 eggs per hour.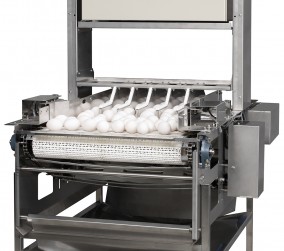 Controlling the egg movement
Newly developed orienter can control the movement of the egg by influencing the egg's center gravity. As a result, it can efficiently orientate the egg orientation and gently carry to the next process.
Top Class Washing and Drying Effectiveness
Washer and Dryer is newly designed to achieve 60,000 eggs per hour washing and drying operation. The main characteristics are all stainless steel body and integrated carrying conveyor on washer and dryer which reduce the stress to the eggs. High performance of egg washing is achieved by improvement of brushing materials and brush positioning. Also, better egg drying performance is applied by the high power blower and unique air flow structure in CS6.
Gentle Egg Retention/Accumulation
The graded eggs are stocked by CS6's unique retention system. This retention system enables the grader to handle the eggs gently and slowly package the eggs to packages and trays.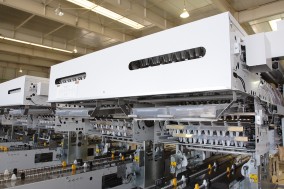 Sample layout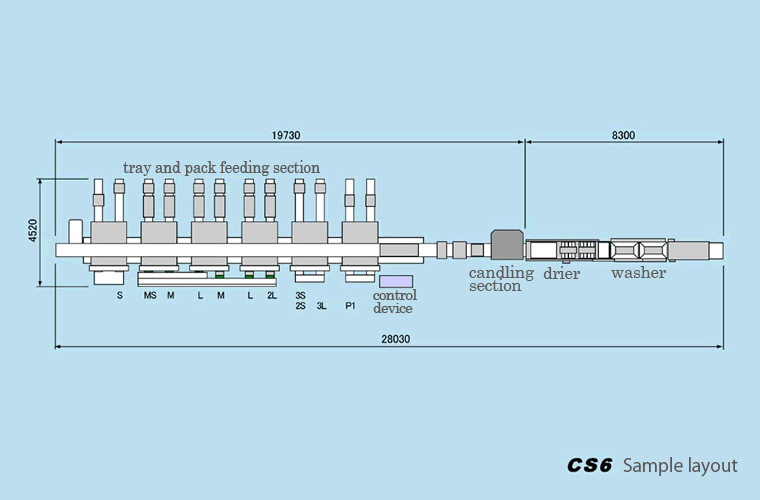 Specifications
Type

CS6

Processing speed

60,000eggs/h

Electric power

3-Phase 200V 35.8kW / Single-Phase 100V 4.1kW

Hot water supply

22L/min(55~60°C)

Water supply

20L/min(for automatic washing)

Air compressor

280NL/min(0.6~0.9MPa)

Electric power and Air compressor are reference value of standard type. Neither peripheral equipment nor optional equipment is included on the above specifications.Please contact our sales staff for details.