Improvement of Hygiene and Maintenance Ease
Sliding (drawable) packaging holder is equipped with SKY-G which achieves higher hygiene and easier maintenance.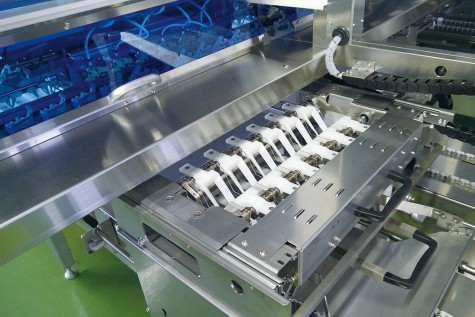 More Flexibility for Layout
A newly designed Multistage Holder with Swing Device can be equipped in SKY-G system. The Multistage Holder is composed by three stages which are top, middle and bottom. This enables the integration and reduction of packaging lanes for the less volume eggs such as extra large/small, dirty and cracked. By equiping this new holder, the SKY-G system can be more compact without reducing its operational performance.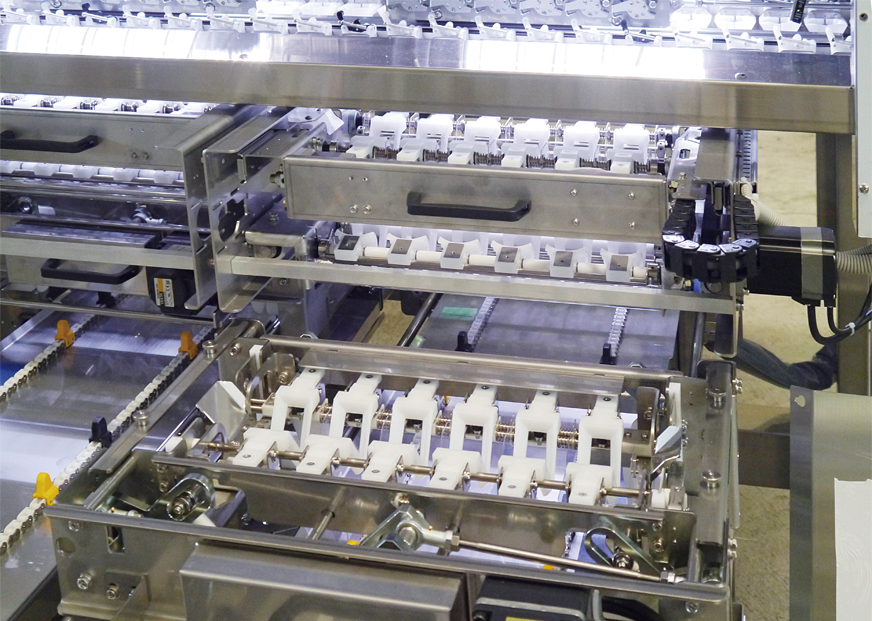 Newly Designed Stainless Steel Frame
New design for frame is applied for SKY-G. The improvement has been applied in places such as machine legs and structures which achieves large space under the grader. This space enables operators to easily do the maintenance and daily cleaning. Also, the stainless steel frame has better rust and dirt resistance. This will keep the machine hygiene for long time.
Capacity
60,000 to 76,000eggs/h (12 line)
World's First Egg Grader with Carrier Cup-Auto Washing Feature
Each grading system comes with more than hundreds of carrier cups and transfers hundreds of thousands of eggs in daily basis, therefore this section can be stained intensively. The SKY-G series is the world's first egg grader comes with built-in cleaning feature for carrier cups. The carrier cups are made of special antibacterial resin which has antifouling effects against egg liquid, and the washing process will automatically start by simply selecting washing menu from control panel, so that enables to clean this section every day.

Automatic Foam Cleaning of Washer and Dryer
It is necessary to clean inside the washer and dryer as these places are the most favorable places for bacteria. SKY-G series can achieve full automatic disinfection cleaning inside the washer and dryer as an optional function. This minimizes the cleaning works of operators. Also, it counteracts the risks of bacteria.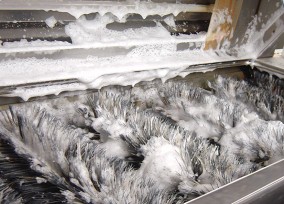 Washable weighing Section
The weighing section built with water-proof load cell units has an automatic correction feature to avoid negative effects from machine vibrations or incidental particles. For the SKY-G series, this weighing section is washable so that enables to keep its cleanness with minimal work.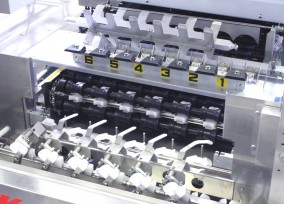 Washable candling Rollers
The egg candling section is the section to install the detection system for crack eggs, blood eggs or dirty eggs. For the SKY-G series, the automatic washing feature can be built-in at this section, so that enables to clean the rollers by simply selecting washing menu from control panel.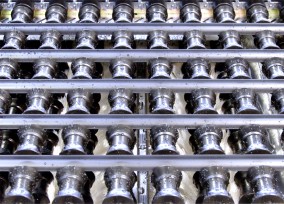 Sample layout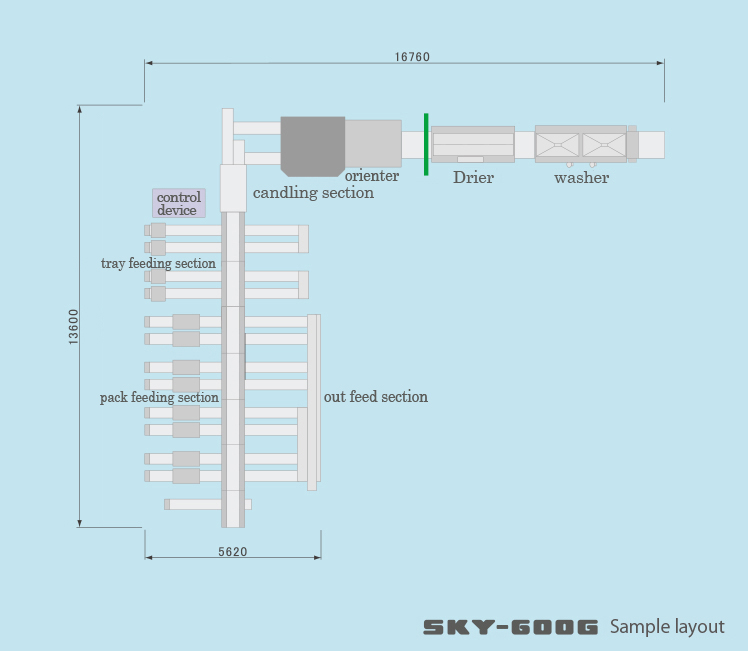 Specifications
Type

SKY-600G

SKY-660G

SKY-760G

Processing speed

60,000eggs/h

66,000eggs/h

76,000eggs/h

Electric power

3-Phase AC200V 48kW/Single-Phase AC100V

6.2kW/Single-Phase AC100V 2.0kW

AC200V 48kW/AC100V 6.2kW/AC100V 2.0kW

AC200V 56kW/AC100V 6.2kW/AC100V 2.0kW

Hot water supply

20L/min(55°C)

20L/min(55°C)

24L/min(55°C)

Water supply

20L/min(for automatic washing)

36L/min(for automatic washing)

36L/min(for automatic washing)

Air compressor

70NL/min(0.5Mpa)

70NL/min(0.5Mpa)

90NL/min(0.5Mpa)

Electric power and Air compressor are reference value of standard type.Neither peripheral equipment nor optional equipment is included on the above specifications.Please contact our sales staff for details.